CAROLINA CELTIC
A Monthly Concert Series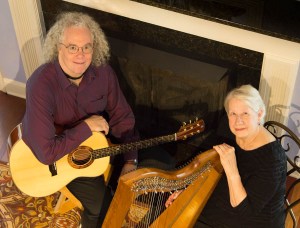 The award-winning Celtic duo of guitarist Robin Bullock and harpist Sue Richards, in partnership with White Horse Black Mountain, present CAROLINA CELTIC, a monthly concert series in Black Mountain, North Carolina. Carolina Celtic showcases Irish and Scottish musical traditions and explores their commonality with the Appalachian ballads and stories of the Carolina mountains.
Robin and Sue, both proud transplants to the North Carolina mountains, blend the ancient majesty of Celtic tradition with the influence of the "New Land," creating music that's beautiful and timeless, yet fresh and current. Their individual achievements speak for themselves, with (among many other accomplishments) Sue being a four-time National Scottish Harp Champion and Robin being ranked among the "100 Greatest Acoustic Guitarists" by DigitalDreamDoor.com and a longtime touring sideman with Lifetime Achievement Grammy Award winner Tom Paxton. The magic of their combined artistic excellence and mastery of Celtic traditions is captured on their many individual recordings and their brilliant 2018 duo CD Highland Ramble.
The concerts take place at White Horse Black Mountain (details and contact info below) the second Monday of every month at 7:30 pm, and present a variety of world-class guest artists, ensuring that no two Carolina Celtic concerts are the same.
February 13, 2023: ROBIN BULLOCK solo
March 13, 2023: SUE RICHARDS AND ROBIN BULLOCK
April 10, 2023: Robin is joined by ANDREW FINN MAGILL, Irish/Brazilian fiddle virtuoso from right here in Asheville!
DATE CHANGE: May 15, 2023: ROBIN BULLOCK solo
June 12, 2023: Robin is joined by JOSH GOFORTH, Grammy-nominated Appalachian multi-instrumentalist, singer and storyteller
SPECIAL EVENT – SATURDAY July 15, 2023: GAILFEAN, powerhouse Irish band with THREE All-Ireland Champions!
JUST ADDED! – SUNDAY July 30, 2023: Robin is joined by TONY McMANUS, legendary Celtic guitar maestro! "Best Celtic guitarist in the world" – John Renbourn
August 14, 2023: SUE RICHARDS AND ROBIN BULLOCK
POSTPONED DUE TO INJURY – NEW DATE TBA – September 11, 2023: Robin is joined by THE REEL SISTERS, stirring and uplifting harp and smallpipes
October 9, 2023: THE SEAN HEELY BAND – National Scottish Fiddle Champion!
November 13, 2023: ROBIN BULLOCK AND STEVE BAUGHMAN
December 4, 2023 (first Monday in December): a special Celtic Christmas celebration with SUE RICHARDS AND ROBIN BULLOCK
Further information about Carolina Celtic, including group rates and quantity discounts for multiple concerts, is available at www.whitehorseblackmountain.com, by calling 828-669-0816, or by emailing whitehorseblkmtn@gmail.com. White Horse Black Mountain is located at 105c Montreat Road, Black Mountain NC 28711.