CAROLINA CELTIC
A Monthly Concert Series
WE'RE BACK!!!
NOTE FROM ROBIN: Because of the coronavirus/COVID-19 pandemic, all live performances after March of 2020 had to be cancelled or postponed…including our then brand new monthly concert series Carolina Celtic at White Horse Black Mountain. (We did manage to get the first concert, with Al Petteway, in under the wire before the pandemic forced us to cancel all the others – we were off to a great start, too, with a full house and a great show!) With the development of vaccines last year and the gradual, cautious lifting of restrictions, we were delighted to START BACK UP AGAIN as of June 2021, and we had a wonderful first (finally) full season. Going forward, whatever restrictions are in place in North Carolina and Buncombe County at any given time will be in effect at White Horse Black Mountain, so keep an eye on the latest guidelines from the Center for Disease Control and Buncombe County health officials, but for now we're back and in person and would love to have you with us. All Carolina Celtic concerts will also be livestreamed and archived on www.whitehorseblackmountain.com, as are all other shows at White Horse, so come join us wherever you are! – RB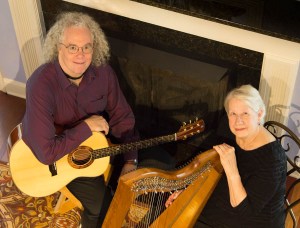 The award-winning Celtic duo of harpist Sue Richards and guitarist Robin Bullock, in partnership with White Horse Black Mountain, are proud to present CAROLINA CELTIC, a monthly concert series in Black Mountain, North Carolina. Carolina Celtic showcases Irish and Scottish musical traditions and explores their commonality with the Appalachian ballads and stories of the Carolina mountains.
The concerts take place at White Horse Black Mountain (details and contact info below) the second Monday of every month at 7:30 pm ET. Every month Sue and Robin collaborate with a different guest artist, ensuring that no two Carolina Celtic concerts are the same. This season's lineup of world-class musical guests is nothing short of extraordinary:
(Taking January off – we live in the mountains, and it does snow here – happy hibernating, and we'll see you in February!)
February 14, 2022: WILL MacMORRAN, virtuoso multi-instrumentalist from The Chieftains and Seven Nations, joined by bouzouki player extraordinaire Frances Cunningham
March 14, 2022: KATE STEINBECK & JOHN WICKEY – PAN HARMONIA,  innovative, genre-bending Celtic/classical sounds on wooden flute and harp
April 11, 2022: JOSH GOFORTH, Grammy-nominated Appalachian multi-instrumentalist, singer and storyteller
May 9, 2022: THE BELFAST BOYS, Irish song and poetry all the way from the streets of Belfast
June 13, 2022: Mick McAULEY & JOHN DOYLE, Irish music legends, former members of Solas
July 11, 2022: BRIAN CONWAY, legendary All-Ireland Fiddle Champion
SHOW CANCELED DUE TO COVID CONCERNS
August 8, 2022: EJ JONES & FRANCES CUNNINGHAM, champion Highland bagpiper with ferocious bouzouki accompaniment
September 12, 2022: THE MUSIC OF TURLOUGH O'CAROLAN – by popular request, Sue and Robin present a special evening devoted entirely to the timeless music of Ireland's greatest bard.
October 10, 2022: AOIFE CLANCY, Cherish the Ladies lead singer from the legendary Clancy Family
November 14, 2022: SUSI GOTT, mountain fiddler and singer blending bluegrass, Celtic and old-time Appalachian
December 5, 2022 (first Monday in December): a special Celtic Christmas celebration with RONN McFARLANE & CAROLYN SURRICK, Grammy-nominated lutenist and viola da gambist from the Baltimore Consort and Ensemble Galilei
Host duo Sue Richards and Robin Bullock, both proud transplants to the North Carolina mountains, blend the ancient and magical tones of the Celtic harp with the powerful resonance of the steel-string guitar, cittern and mandolin to create music that's beautiful and timeless, yet fresh and current. Their individual achievements speak for themselves, with (among many other accomplishments) Sue being a four-time National Scottish Harp Champion and Robin being ranked among the "100 Greatest Acoustic Guitarists" by DigitalDreamDoor.com and a longtime touring sideman with Lifetime Achievement Grammy Award winner Tom Paxton. The magic of their combined artistic excellence and mastery of Celtic traditions is captured on their brilliant 2018 duo CD Highland Ramble, and they eagerly look forward to the many collaborations to come as part of the Carolina Celtic series.
Further information about Carolina Celtic, including group rates and quantity discounts for multiple concerts, is available at www.whitehorseblackmountain.com, by calling 828-669-0816, or by emailing whitehorseblkmtn@gmail.com. White Horse Black Mountain is located at 105c Montreat Road, Black Mountain NC 28711.